Welcome to Project:KAring
We are a community dedicated to providing children with the tools they require to become the best versions of themselves. Our

mission

is to make alternative education focused on the body, mind, and soul available to all. We do this by making teachers, facilitators and centers easily seen through our online directory,providing information through our learning portal and parent community, and we make it all affordable by using procedes from all of our offerings to create

scholarships

children can use with our listed vendors.
Our Profits Go Back to the Community!
Our goal is to reach every child!
One of the missions, of Project: KAring, is to make tools and education available to children of all backgrounds. As we created this platform, we set-up several ways to fund this mission. We may not be a non-profit organization but we are set-up like one, as we use our profits to help kids that would otherwise not get an opportunity to participate in events and learning opportunities.

Learn more...
Give a Child the Opportunity
When you buy a scholarship, you give a child the opportunity to take a course or
a class that they wouldn't be able to otherwise experience.



...On The Road
How I went from a 6-Figure Income to being "Broke," Happy & Free.
I just wanted to cry.
My soul felt so heavy. Not from sadness or happiness, but from many years of pent up emotion.
It was as if my emotions finally had the okay to unleash their cooped-up fury on every part of my being.
I had been creating six figures worth of product, mostly alone. I would wake up between 2 and 4 in the morning, sitting up in my bed ever so slowly to keep my nausea at bay. I would slip on my soft and stretchy work pants so as not to disturb the swelling that came from the lack of sleep and poor eating patterns. I would brush my teeth, pull my hair back and, barely looking in the mirror, I would head to work.
-----
Author
Karen Matamoros
We Share Our Experiences!
Project: KAring ...the experience!
We held our first event as a way to see how children would adapt to all types of workshops. We were blown away by how receptive they were. Sometimes inexperience is confused with capability. Just because a child has not had much experience with something does not mean they are not capable of embracing that experience. During our first event we put this to the test.
We mixed free play with more specific instruction. We shared experiences in yoga, emotions, herbs and healing, meditation, technology, and introspection. The experience was intriguing and entertaining. They opened up and shared and got to know each other in a deeper level. And the combination of opening them up to a deeper connection combined with free play created a fun and relaxing atmosphere in which they excelled.
Read more ...
Thoughts On Education
A Blueprint for a Strong Homeschooling Foundation.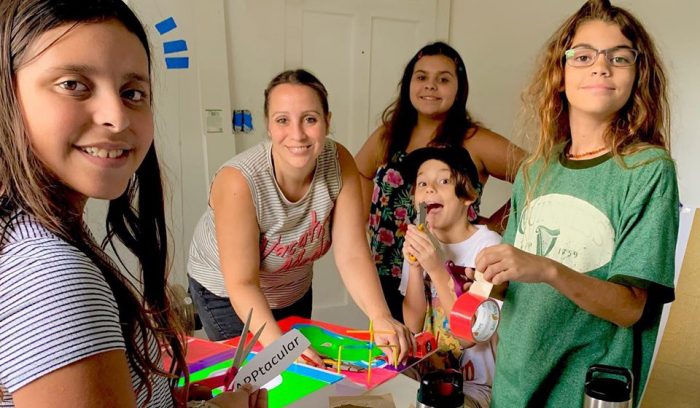 Editor's note: follow this author to be notified when each piece of this mindful homeschooling series is published! 
~
"I hear you! Homeschooling my daughters was my choice on my own time!"
Looking back at when I made the decision to homeschool my daughters, what now seems like a lifetime ago, it was not a decision that came easily to me at the slightest.
-----
Aurthor
Karen Matamoros